Mistheria
Keyboardist / Pianist
(((Rob Rock, Neil Zaza, etc.)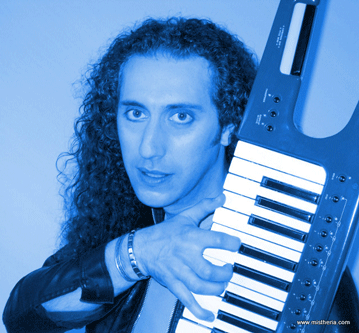 "I proudly play Prominy virtual instruments, especially LPC and SC Electric Guitar which I massively used on my brand new album; 'Dragon Fire'. You can enjoy some amazing guitar performances using SC Electric Guitar - you'll be blown away with the stunning and powerful guitar sound made by Prominy! The new SR5 Rock Bass really astonished me, it completes my electric strings setup. Of course, the awarded PCP-80 Electric Piano is firmly embedded in my equipment. Prominy offers hightop-class virtual instruments for any kind of musicians, songs and styles. Thanks to Prominy, my music production definitely moved a step ahead!"

- Mistheria
www.mistheria.com



*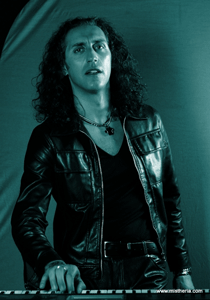 Mistheria | Biography
Inspired by the passion of his father, Mistheria started studying music at the age of six, and went to music conservatory at the age of 13. It's during the conservatory years that he started his career as a performing artist, both as a solo artist and as supporter of chamber orchestras. In 1995 he graduated with full honours and special mention. But Mistheria had already spread his love for music outside of the strict Classical field, and for his first band Mirage (formed in the early '90s) the songs he wrote were in the Progressive rock stylings of the likes of ELP, Yes, Genesis, King Crimson, Jethro Tull, Pink Floyd, Banco, and other such inclined acts of those days (he'd bought all albums of the mentioned ones, finding an important inspiration from 'em for his further career). In 1994, Mirage saw a dream come true when Mellow Records released their album; 'Frammenti'. For Mistheria session work starts at the age of 18 with local bands and then tours throughout Italy with Pop vocalists and stage actors, the work occasionally seeing him perform shows on radio and television as well.
| | | |
| --- | --- | --- |
| Somewhere along the line he's subjected to the song 'Trilogy' by Yngwie Malmsteen, and he falls hopelessly in love with the sound of it. The hopelessness coming from the fact that he's like to make such music, but doesn't play the guitar. Then he discovers the Roland AX1 (the so-called 'keytar') has paved the technological way for him to write exactly that kind of music, and he starts developing the playing techniques to enable him to emulate the sound of one playing guitar, helped along in that effort through the evolution of computer music and music software, and according to Mistheria himself everything came together to perfection one evening in 2005. However, before that other things had already started happening to the charismatic keyboardist! | | |

You see, in the year 2000 he starts the project Viracocha, a band for which he writes his first Metal songs and the album The Beginning (released through Noise Records subsidiary label SonickAttack) sees light of day that same year. For several reasons a second album never came about, but several songs off the album (some of which he's already written the instrumental parts for before) have become staples in his live repertoire.





In 2001 he becomes friends with guitarist Neil Zaza, whom invites him on an Italian tour. Mistheria then leaves his native country for a 3-month stay in USA (Orlando, FL - Los Angeles, CA) - just to have the personal experience. During his time there he did some solo performances, and jammed with the likes of guitarist Rick Renstrom and singer Rob Rock. But then time came to return to Italy, as many concerts were already planned. Still, connections had been made, phone numbers and e-mail addresses were exchanged, and always having felt comfortable with collaborating with many people, he went about recording his second Metal-geared album, this time under his own surname.

As a result, the 2004 Lion Music album; 'Messenger Of The Gods' had a guestlist to dream about: Rob Rock (he'd contributed on Rob's 2003 album Eyes Of Eternity, and would also play on 2005's Holy Hell, both albums produced by Roy Z), George Bellas, Matt Bissonette, Barry Sparks, John Malacuso, Anders Johansson, Neil Zaza, Jeff Kollman, Ron Thal 'bumblefoot', and many more (really... look it up some time, eh?). The Roy Z connection would put Mistheria on the map on a larger scale, when he invited the keyboardist to collaborate on the 2005 Bruce Dickinson album; 'Tyranny Of Souls'.

Since then, Mistheria has been session guest to many recording artists (besides on albums by Neil Zaza and Rob Rock, Mistheria was also featured on works by Book Of Reflection; Chris Catena; Winterlong - but that collaboration had already started in 2001; Tommy Vitaly; Angel Of Eden and quite a few others - for complete list, check the section 'Discography' at (www.mistheria.com), but in between he still worked on his classical stuff, releasing 'Soundtracks Of Our Lives' (a mix of theater, Ambient, New Age, and movie soundscapish material) through Kaosmos Productions in 2006 and the exclusively piano album; 'Solo Piano' in 2007 (that one released through Videoradio & Rai Trade).


| | | |
| --- | --- | --- |
| | | So now there's a new Prog-Metal and Neoclassical album named 'Dragon Fire' (2010, Lion Music), and on top of a solid rhythm section consisting of bassist Alberto Rigoni and John Malacuso, it features vocal contributions by John West, Rob Rock, Lance King, Mark Boals and Titta Tani. On the guitar we get Neil Zaza, George Bellas, Roger Staffelbach, and Emir Hot. Quality musicians playing music written by a quality composer, producer, and accomplished musician - that can only result in quality music, right? Right! Mistheria also still played plenty of keytar and guitar (SC Electric Guitar by Prominy) on this album, with the 'real' guitarists playing mainly solos! |


More on www.mistheria.com