Greg Bieck
producer / composer / keyboard player / mixer / engineer
(((Hall and Oates, Beyonce, Kenny G, Ricky Martin, Savage Garden, etc.)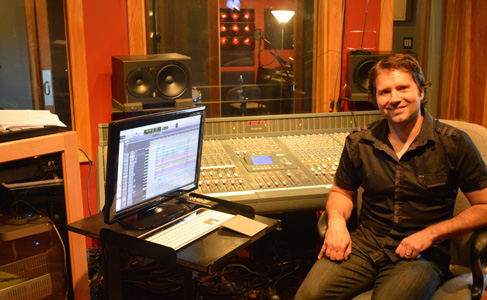 "WOW, Prominy is in a league of it's own!! It really gives you the flexibility to create realistic guitar parts, down to the slightest nuance. Very impressive!"
Greg Bieck is a producer / composer / keyboard player / mixier / engineer who runs his own studio in Nashville TN, where he records and produces artists. He has worked with Hall & Oats, Beyonce, Kenny G, Ricky Martin, Savage Garden, and many other people.

Credits:
(For the latest information, go to; Allmusic.com)

| Year | Album | Artist | CreditsC |
| --- | --- | --- | --- |
| 2014 | Good Road to Follow | John Oates | Additional Production, Engineer, Mixing |
| 2013 | Christmas Cheer [Sony #2] | | Composer |
| 2013 | The Iconic: Male Voices of Christian Music | | Composer |
| 2012 | The Classic Christmas Album | Kenny G | Drum Programming, Programming, Rhythm Programming |
| 2011 | Laughing Down Crying | Daryl Hall | Drum Programming, Engineer, Keyboards, Producer |
| 2011 | Word: Six Decades of Hits | | Producer |
| 2010 | Hooba Dooba | Paul Brady | Composer |
| 2010 | Top Ten | David Phelps | Composer, Producer |
| 2009 | Greatest Holiday | Kenny G | Digital Programming, Drum Programming, Programming |
| 2009 | The Best of David Phelps [Word] | David Phelps | Composer, Producer |
| 2008 | Casey Jame | Casey Jame | Composer |
| 2008 | Keeps Gettin' Better: A Decade of Hits | Christina Aguilera | Main Personnel |
| 2008 | Livin' It | Mutlu | Additional Personnel, Guest Artist, Keyboards, Programming |
| 2007 | Disengage | Justin Unger | Audio Production, Composer, Drum Programming, Engineer, Keyboards, Producer |
| 2007 | Life's a Dance [DVD] | | Composer |
| 2007 | No More Night: David Phelps Live in Birmingham | David Phelps | Composer |
| 2007 | PureNRG | PureNRG | Composer |
| 2007 | Say It | Britt Nicole | Composer |
| 2007 | You Are There | Jennifer Leigh Meyers | Composer |
| 2006 | Country Hits 2007 | | Composer |
| 2006 | Encore...For Future Generations | 4Him | Drum Programming, Engineer, Keyboards, Mixing, Producer |
| 2006 | Home for Christmas | Daryl Hall & John Oates | Additional Personnel, Arranger, Audio Engineer, Audio Production, Composer, Engineer, Keyboards, Mixing, Producer, Programming |
| 2006 | Karaoke: Little Big Town | | Composer |
| 2005 | (From) A Man's Point of View | Carlton Blount | Keyboards, Programming |
| 2005 | I Can Dream About You | Daryl Hall & John Oates | Producer |
| 2005 | Life Is a Church | David Phelps | Arranger, Audio Production, Composer, Engineer, Keyboards, Main Personnel, Piano, Producer, Programming, String Arrangements, Synthesizer |
| 2005 | Miracles | George Huff | Arranger, Composer, Engineer, Producer, Programming |
| 2005 | Something's Goin' On | Cliff Richard | Programming |
| 2005 | The Greatest Holiday Classics | Kenny G | Digital Programming, Drum Programming, Programming |
| 2005 | The Road to Here | Little Big Town | Composer |
| 2004 | Even More | Anthony Evans | Bass, Engineer, Keyboards, Producer, Programming, Rhythm |
| 2004 | Free | LaShell Griffin | Bass, Drum Programming, Engineer, Keyboards, Mixing, Producer |
| 2004 | Happy | Matthew West | Programming |
| 2004 | I Pray | Amanda Perez | Composer |
| 2004 | I'll Be Around [US] | Daryl Hall & John Oates | Arranger, Engineer, Mixing, Producer, Programming |
| 2004 | One | Andy Chrisman | Composer |
| 2004 | Our Kind of Soul | Daryl Hall & John Oates | Additional Personnel, Arranger, Audio Production, Composer, Drum Programming, Engineer, Keyboards, Mixing, Musician, Producer, Programming, Synthesizer Strings |
| 2003 | Do It for Love | Daryl Hall & John Oates | Bass, Programming, Sequencing |
| 2003 | Inside Out | Nate Sallie | Composer, Drum Programming, Engineer, Keyboards, Organ, Producer |
| 2003 | My Christmas Prayer | BeBe Winans | Arranger, Composer |
| 2003 | Too Close for Comfort | Darren Hayes | Composer |
| 2003 | While You Can | Lucy Woodward | Composer, Mellotron, Mini Moog, Piano |
| 2003 | Wide Wide World | Erin O'Donnell | Composer |
| 2002 | Desejos de Mulher: International | | Composer |
| 2002 | Obvious | Plus One | Composer |
| 2002 | Only a Woman Like You | Michael Bolton | Engineer |
| 2002 | Spin | Darren Hayes | Composer, Engineer, Vocal Engineer |
| 2002 | Wishes: A Holiday Album | Kenny G | Digital Programming, Drum Programming, Programming, Rhythm Programming |
| 2001 | Irresistible | Jessica Simpson | Drum Programming, Engineer, Keyboards, Programming |
| 2001 | Josh Groban | Josh Groban | Programming, Synthesizer Programming |
| 2001 | Masterbeat: Fusion Vol. 1 | Brett Henrichsen | Composer |
| 2001 | Renaissance | Lionel Richie | Digital Editing, MIDI Programming, Programming, Vocal Engineer |
| 2001 | Survivor | Destiny's Child | Digital Programming, Drum Programming, Drums, Engineer, Keyboard Programming, Keyboards, Programming, Rhythm Programming |
| 2000 | Pavarotti & Friends for Cambodia and Tibet | Luciano Pavarotti | Digital Programming, Drums, Keyboards, Programming, Synthesizer |
| 2000 | Platinum Hits 2000 | | Digital Programming |
| 2000 | Seul | Garou | Engineer |
| 2000 | Sound Loaded | Ricky Martin | Digital Programming, Drum Programming, Engineer, Programming |
| 2000 | The Promise | Plus One | Programming |
| 1999 | A Love Like Ours | Barbra Streisand | Programming |
| 1999 | A Rosie Christmas | Rosie O'Donnell | Arranger, Keyboards, Producer, Programming |
| 1999 | Affirmation | Savage Garden | Digital Programming, Drum Programming, Keyboards, Programming, Synthesizer |
| 1999 | Classics in the Key of G | Kenny G | Keyboards, Programming, Synthesizer |
| 1999 | I Knew I Loved You | Savage Garden | Programming |
| 1997 | Kiss Me Guido | | Engineer |
| | Glorious Morning: 10 Stirring Anthems Of The Risen Christ | | Producer |
| | You Can Do More | Amy Hill | Composer |