Gary Rottger
producer / composer / keyboard player / programmer
(((Kiss, Pat Benatar, Joan Jett, Cyndi Lauper, Frank Zappa, Imagination, Ian MacDonald, Face to Face, Latin Rascals, Fat Boys, Blow Monkeys, Betty Wright, Lamont Dozier, Fleetwood Mac, etc., etc.)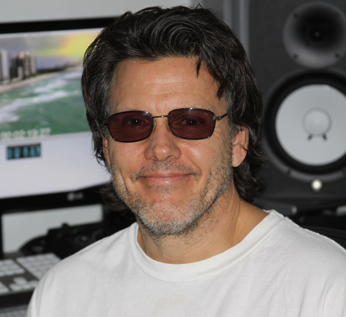 "I must say that when I stumbled onto the Prominy website I was very impressed with the live demos. I thought the V-METAL product sounded great. This is a very useful virtual instrument. Nice job Akihito!"

"Once again, Prominy has created an exceptional virtual instrument for the composer. The Hummingbird acoustic guitar is a great addition to the V-Metal electric guitar. I find this instrument extremely good and it is now part of my acoutic guitar arsenal.
- Gary Rottger."

Virtual Interactive, Inc. is a music production/publishing company that provides original music for film, television, radio and the world wide web. Some of our television credits include: AT&T, GM, Sudafed and Prestone. Founder and keyboard player, Gary Rottger, composes and produces in a wide variety of music genres in many different areas of music. Gary's main focus is composing for television and film. He has composed music for many television commercials and has written themes for television programs including, "The People's Court" which he continues to service. Gary also stays active with various album projects and consults and works in the publishing field. He has facilitated song licensing deals for major companies such as Mattel and Fisher/Price


Gary Rottger
Gary Rottger, founder/owner of Virtual Interactive, Inc., is an award winning writer/producer that has been providing music for television and radio for the past 20 years.

"I have been so very fortunate to have worked with so many talented people throughout my career. For that I am truly grateful and I thank you one and all. The technological audio advancements by companies like Avid, Apple, Apogee, etc., afford us incredible tools today. With the years of experience as a creative and utilizing these tools I am able to work with producers and directors with remarkable speed and efficiency."

Quick Bio:
At 9 started drums. 10 went to piano. Played keys throughout High School and College. For years, I was a studio session keyboardist and toured with Kiss among many others. During the early "MIDI" days I did re-mix work on albums that include; Fleetwood Mac, Pat Benatar, Cindi Lauper and others. My first NYC studio yielded a string of hits that eventually lead to television. Presently, I am based in Miami and work throughout the US.

Affiliates:
ASCAP - writer/publisher since 1999
NARAS - voting member since 1990
AFTRA/SAG - member since 1997
SCL - voting member

Best Moments:

1.

Having the great fortune to write with legend Lamount Dozier.

2.

Auditioning for Kiss at S.I.R., NY while the great Diana Ross, a friend of Gene Simmons, looked on.

3.

Producing The Fatboys at Unique Recording.

4.

Touring with Frank Zappa through Europe, as a tech, and discussing his music.

5.

Inventing musical toys, including the big hit "Rock and Roll" ELMO", for Mattel/Fisher-Price.
Record Biz:
I have worked with the following artists as either producer, player, writer or programmer; Kiss, Pat Benatar, Joan Jett, Cyndi Lauper, Frank Zappa, Imagination, Ian MacDonald, Face to Face, Latin Rascals, Fat Boys, Blow Monkeys, Betty Wright, Lamont Dozier, Fleetwood Mac, etc., etc.

TV Biz:
My television and radio credits have included such clients as; AT&T, GM, Dodge, Nestle, Sudafed, Prestone, CBS Special Programs, NBC, ABC, CBS, TLC, The Discovery Channel, The History Channel, HBO and MSNBC, Mattel, Fisher/Price. I have written theme music for Jane Pauley, The Peoples Court, Day & Date and others.

Gear:
Just added: Korg Kronos and an UA Octo Card.
For mixing: Pro tools 9 HD 3 Accel & HEAT with a C/24 console. All popular plugins.
For tracking: Logic Studio 9, Apollo Quad, a vintage mic collection and assorted gear.
Keyboards: Venom, Fantom X 8, Motif 8 EX, Axiom Pro and M-Audio controllers.
Plugins: Over one billion plugins and counting. (just kidding, but I do have many)


---